** You will need to select either Basic Membership or Premium Membership to view the content on this website.
---
Comparison Chart:
With this chart you can compare the two levels of membership. Also, all starred items on the chart are explained below the chart. If you have any questions feel free to post in the forums.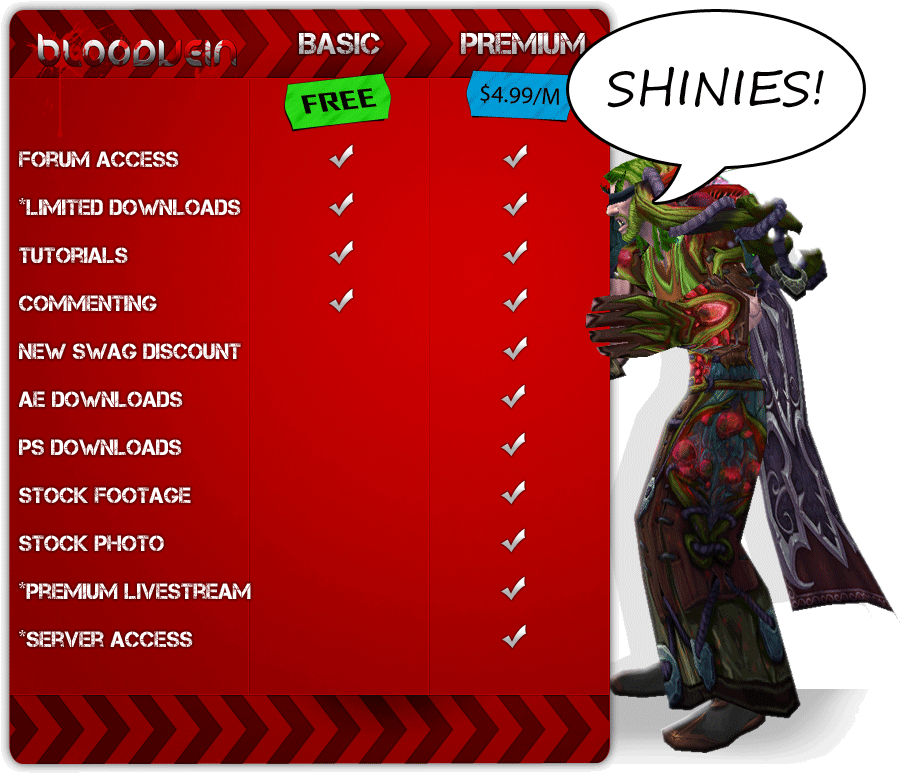 * Limited Downloads: What this means is that when you view a new post that has downloads attached to it, I.E. After Effects projects there will be two sets of downloads, one for basic members and one for premium members. In other words, if its a Stock Photo post and there is a total of 15 pictures available in the set, you will only have access to about 7 of them.
* News Letter: Once a month I will be sending out a Premium Member only news letter. When new products are released on the Swag shop there will be a coupon for that item in the news letter. In the future I plan on having a premium member only giveaway!
* Premium Livestreams: I am still working out the details and scheduling for this perk. However, once implemented there will be a special spot on the website for you to know when the live stream will go and how to access the stream.
*Server Access: I am still working on getting this going. However, once implemented you will have the chance to access my Minecraft server. This does not guarantee you a spot on the server as there is a limited number of people that can simultaneously be on the server at any given time. Access is on a first come first serve basis.
---